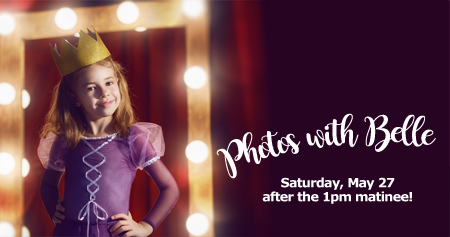 Support Morgantown Theatre Company when you join Belle onstage for a photo! This special opportunity to pose with Belle is exclusive to the Beauty and the Beast 1 p.m. matinee on Saturday, May 27.
Kids can enjoy the show and get their pictures taken right after the performance.
We'll make the day even sweeter with a delicious, edible version of Belle's yellow dress made by Morgantown's Crafted Cookies, available for the first three dozen participants!
*Pricing is just $10 for a photo and cookie, $5 for photo only, and all proceeds benefit future MTC productions. To sign up, just look for the registration table in the Met lobby before the show.
Of course, all children attending the show are encouraged to come in their favorite costume. You can never have too many Belles, or Cinderellas, or Snow Whites, or Ariels, or…
Tickets for all shows may be purchased:
through the WVU Box Offices, call (304) 293-SHOW
online through Ticketmaster.com
or at the Metropolitan Theatre box office 90 minutes before show time.